Anambra Polls: Jonathan And PDP Governors Storm Awka, Canvass Suport For Obaze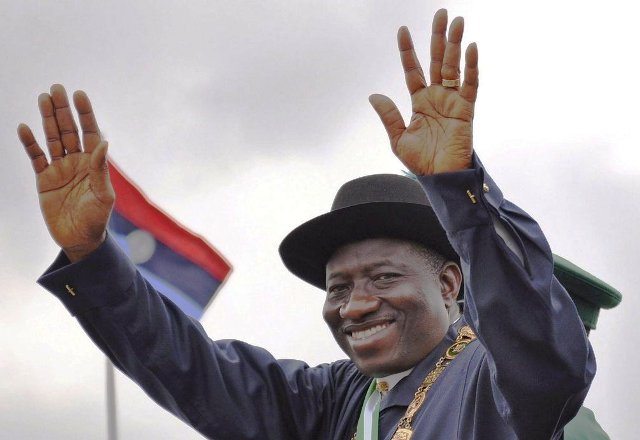 Ahead of the Anambra Polls slated for Saturday November 18, Former PresidentGoodluck Jonathan led the Governors of Rivers, Delta, Abia, Ebonyi, Ondo, Taraba, Gombe and Deputy governor of Akwa Ibom states as well as former governor of Ogun state Otumba Gbenga Daniel to the grand finale of campaign rally of PDP at All Saint field Onitsha.
Jonathan stressed the PDP was a party to beat in forthcoming election in the state and urged Anambra people to vote for the party's candidate, Mr. Oseleka Obaze and stand firm to defend democracy in the state.
Former President Goodluck Jonathan Thursday said that the only way for Igbo to have voice in Nigeria and to end marginalization was for Ndigbo to return the Peoples Democratic Party, PDP, beginning with Saturday's governorship election in Anambra state.
PDP is the real party that can lead Anambra to the promised land, founding father of PDP is from Anambra which is Dr. Alex Ekwueme and PDP has more population in the country. PDP will bring development to Anambra state. We will encourage enterprise, Obaze will encourage enterprise in Anambra. You must not make mistake on Saturday, vote for Obaze.

You need somebody that can have a voice and represent you well when they go to Abuja, you need first eleven when you go to Abuja to defend the interest of Anambra state

We need somebody that will protect the interest of Anambra people, somebody to protect the interest of Igbo. We don't want any situation Igbo will complain of marginalization, it will depend on people you send there and then governors and people we send there.

We need somebody that will encourage the enterprise and business who has the connection overseas to attract foreign partners to the state and that person is Obaze


In his remark, the former Governor of the state Peter Obi stated that Obiano was a mistake and bad market which Anambra state people should correct in the forthcoming election.
Obiano is a mistake and bad market we made which must be corrected by voting Obaze in Saturday election. He should tell us what happened to N75 billion left in the state account and N192 million allocation. Obiano said there is no need of saving money, he sold Anambra state house in Lagosstate, let's vote him out


In his remarks, the PDP candidate Oseloka Obaze said he was humbled by the overwhelming support of the party and people of the state and called on them to come out en mass to vote for him on Saturday. He said that his administration would be youths, women friendly and would make education first priority if elected into office as the governor.